PPR – Placement Performance Report is an important report that helps in your Adwords campaign. You can get good information through the report and could always trace the performance of your campaign.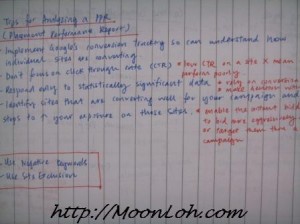 Here are some tips for analyzing a PPR
Implement Google's conversion tracking so can understand how individual sites are converting
Don't focus on click through rate (CTR) – low CTR on a site doesn't mean ads perform poorly
Respond only to statistically significant data – rely on conversion data and make decision with several weeks data
So, if you haven't run the PPR, go get the report and analyze your campaigns' performance.