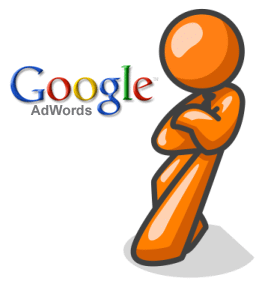 What is your ads rank number? Rank number for your ad is the position that your ad would be shown at the search result.
For example, the search result for "seo", the ad with the very high position are "Professional SEO Solution", "SEO Workshops Singapore" and "SEO Experts since 1997″. These three ads stand a very high chance for the potential buyers to click on their ad because they have gained the position advantages.
*click to enlarge
This is the normal user behaviour just like you and me. When we google something, we always click on the first few search results and lazy to stroll down. This is very common and therefore the higher the ad position, the higher the CPC Bid we should place at adwords.
In adwords, there is another important element that can help to lower the CPC bid but still gain us the higher rank number. This is the Quality Score.
Rank Number = CPC Bid x Quality Score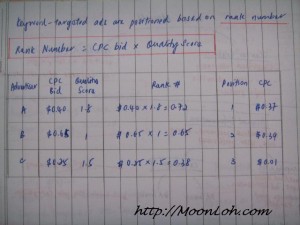 From the schedule, it shows that Advertiser B has higher CPC bid but his position is at No.2. Why? Because the quality score of Advertiser B is the lowest, only 1. Therefore we can clearly see that Quality Score plays an very important role in determine your ads position and in term of the cost savings.
Still remember What are the components of Quality Score? There are 3 important components:
CTR
Keyword and ad text relevance
Landing page quality
If your CTR is very good but you still need to bid higher price for your ad to show on top, perhaps you need to adjust your keywords and your landing page quality accordingly.