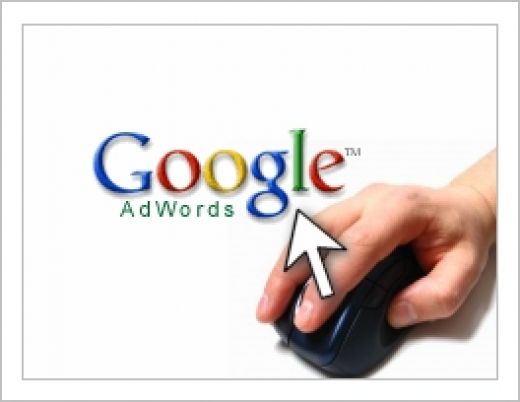 I'm thinking how to share about my learning of Google Adwords because after I've studied all the topics I really found that "All the topics are important". You really cannot skip any sentence in the lesson, don't mention a topic. =)
I will choose those topics that I feel we should pay more attention into it or normally people tend to ignore. One of the reason I do my own notes is I always like to have a glance of the things I learn and I always highlighted the points I feel I should pay more attention (key points for me).
I've decided to share on Google Network today.
Why I feel that it's important?
We must know what google network is before we start any campaign. The consequences of ignore this will end up with losing extra money on Adwords.
Let's see my notes about Google Network:
*Note 1-click to enlarge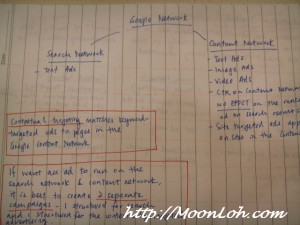 *Note 2-click to enlarge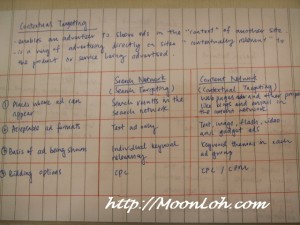 From my notes, you can see that Google Network can be classified into two:
Search Network – Text Ads
Content Network – Text Ads, Image Ads, video Ads etc
The key points I've highlighted in my Note 1 are:
Contextual targeting matches keyword-targeted ads to pages in the Google Content Network
Why 2 separate campaigns?
Please refer to my Note 2 – 4 criterias
Places where ad can appear are different.
Acceptable Ad Formats are different.
Basis (Keywords issues) of ad being shown are different.
The bidding options are different and we would like to set CPC for Search Network while CPM for Content Network.
If you have a campaign that combine search network and content network but work well, kindly share with me.
You can also give me comments so that I can improve my sharing with you.
Related post: