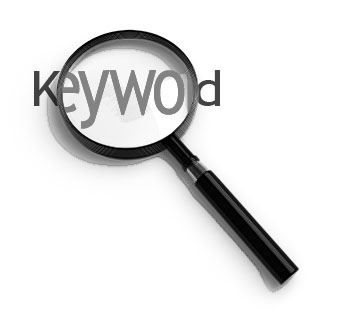 Generally, there are four types of keyword matching in Google Adwords. You probaby know this if you have read the notes from Google Adwords Learning Center. However, I guess still have people who didn't read from the Learning Center or they have read but sooner they forgot about the keyword match. Here, I just show you my handwriting notes like I always did. I hope you can see the whole picture instead of reading sentence by sentence or watch the video from start till end.
Why keyword match is important?
Keywords are the most important "key" to determine how much you pay for the ad to display. Since it involves money, we better put full attention on it. otherwise the money we invest will turn into a cost instead of investment.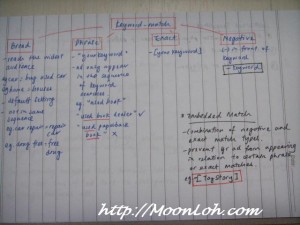 Basically, there are four types of Keyword Match:
Broad
Phrase
Exact
Negative
I advise you to use all four types of keyword match and see which one work best for you. The keywords you use also closely relate to the traffic your ad could generate.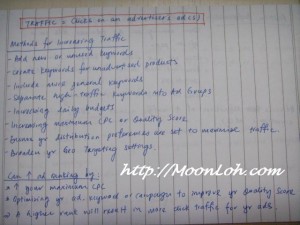 Traffic = Clicks On An Advertiser's Ad(s)
Methods for Increasing Traffic
Add new or unused keywords
Create keywords for unadvertised products
Include more general keywords
Separate high-traffic keywords into Ad Groups
Increasing daily budgets
Increasing maximum CPC or Quality Score
Ensure your distribution preferences are set to maximise traffic
Broaden your Geo targeting settings
You can also try to increase your ad ranking because a higher rank will result in more click traffic for your ads.
Two ways to increase ad ranking
Increase your maximum CPC
Optimizing your ad, keywords or campaign to improve your Quality Score