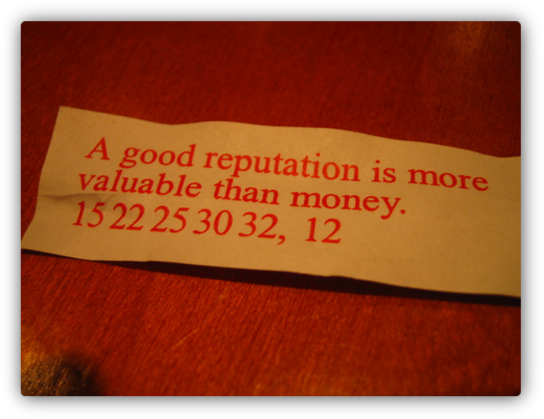 Social networking is a good way to build your reputation online. Your biggest responsibility at social networks is to build your reputation. Social networking sites such as Facebook, LinkedIn and Twitter are good sites that allow you to do so.
Tips to build your reputation
1. Always be yourself - You must be yourself and always proud of being yourself. If you are acting and being fake, people may find out after a while and as soon as they realise you are not who you say you are, your reputation is destroyed. Everyone has it's own strong points and knowledge in particular field. So don't worry of being yourself. When you start to share some knowledge, those want to learn from you are going to gravitate towards you.
2. Keep everything real with your audience - Let your audience learn how to trust you by sharing your things with them transparently. Always let people know what you are doing and why you are doing it. For example, I have learnt about social media and I know it's going to help you all in internet marketing, so I blog about it and hope that you get some tips and know how to benefit from it. Recently my articles at Hubpages also doing quite well and one of it being published at the 200,000th articles. I'm sharing with you all and hope that you all have good result at article marketing too. Those are the strategies that can actually help us in internet marketing.
3. Be positive always – Always share your positive perspective and be positive and optimistic. Even though you can login you Twitter or Facebook to talk about some negative topics like how bad your day or how bad the products but by doing this, you will get negative return. And it won't help either you or your products.
4. Be patient – Building your reputation at social networks is not going to happen over night or even over a few weeks. You must be patient and when time goes, you get more followers and a larger network of friends and peers. It might take couple of months or year for your network to grow and once it hits a tipping point, your reputation and business accelerates at a very quick pace.
5. Sharing is the most important – participate in the conversation, try to help people and let people how to do without charging them money at first. You think people will follow you if your answer to them is "You can get my answer from the eBook and go buy it"? You need to share with them and give them solutions so that the trust is developed.
How does social networking help to make money?
It doesn't help you to make money directly and you got to have fun and build relationship. Connect with people and really help them out. Dollars will come when they become your loyal followers. So, start to have fun at social networks.