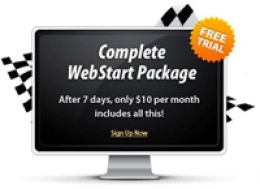 GDI is Global Domains International and if you are looking for some information on how to make money from GDI, I would love to share with you my very own experience. Either you have joined GDI or just looking for some information about GDI, the truth is, GDI is a low costs, no risk work from home internet business that suitable for all. I've actually written a detail review about GDI and I'm not going to repeat again here.
Today I just want to share with you on how to earn some extra money with GDI program. I highly suggest you join the weekly bonus contest. For every 5 paid affiliates you refer in one week period you'll earn a U$100 cash bonus. Try to ask yourself the main reason to join GDI. If you just want to use their service (domain name, website builder, 10 email addresses) then is fine not joining the bonus contest. But if you really want to earn money through GDI, it makes sense to join the contest right?
One tip I can share with you is, you don't really need to join the bonus contest when you first join the program. All you need to do is to take note of the weekly new members you have. If you are able to get 5 affiliates within a week, quickly join the contest so that to qualify the bonus.
I always get questions about what is GDI offers and what they can get from GDI. See, I totally understand that because when you pay money, you should get services or products from the company. Otherwise this is just a scam.
Since GDI is legitimate company, which means when you subscribe to them, you will get:
1) Your Own. WS (Website) Domain Name
2) Quick and Easy Website Builder
3) Custom Email Addresses
4) Chance to Earn Residual Income
You may read in details from - What Do I Get?
"Do I really need the above service?" Well, this is another good question that I get too. Let me share with you this, if you seriously want to have an online business, you need to have your very own domain name and website builder to build your own website. These are the important tools for online business. Without the tools how are you going to have success business online?
Many people have quietly earn residual income from GDI program. Simply visit their Testimonials site and choose the country you like to read from. You can read testimonials from Singapore, Malaysia, Indonesia, Philippines, India and many other countries. Also, don't forget to read their promotional tips by clicking the "Learn More about How to Work from Home" link.
You want to read more? Click here to read How to Promote GDI Effectively.