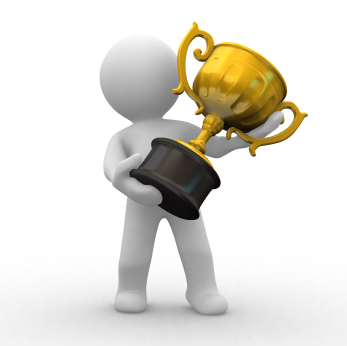 Affiliate marketing can be a great way to make money.  Finding a niche market with products and services you trust and believe in is the first step to success.  There are tremendous affiliate programs which offer you an abundance of tools and materials to promote and market their products. However, what you do with those tools and materials is entirely up to you.  You can be just another affiliate or a super affiliate.
What Is A Super Affiliate?
Technically speaking a super affiliate is someone who generates a significant amount of profits for the products or services they represent.  A super affiliate can make a healthy living from their affiliate business alone while a standard every day affiliate may need to supplement their affiliate income with, gasp…a 9-5 job!
Benefits To Being A Super Affiliate
The most significant benefit to being a super affiliate is the income.  Many super affiliates make six figures simply promoting the products and services of others.
Additionally, if you're one of the main contributors to a company's affiliate program they're going to pay attention to you and your needs.  You may receive a higher percentage of sales you may receive first shot with new marketing materials and programs and you'll get the support you need when you need it.
Here Are A Few Steps To Become A Super Affiliate:
Step One – Commit to publishing content every single day.  Content has proven time and again to be the best sales tool available to affiliate marketers.  Nothing, not even strategically placed ad copy works as well as providing quality content that pre-sells any product that you're promoting on your website.
Possible content includes:
* Autoresponders.
* E-newsletters.
* Blogs posts
* Social networking via forums, social networking sites, and chat rooms
* Articles
* Press releases
Step Two – Track and test.  Make sure you know where your prospects are coming from, what motivates them to click through and what information they read and respond to – then give them what they need.  Tracking and testing is the only way to hone your affiliate program into a smooth running, money making machine.
Step Three – Use the provided marketing materials and be willing to take it a step further.  Many affiliate programs do a great job of providing their affiliate with ready to marketing materials including:
1. Banner ads
2. Buttons
3. Email copy
4. Articles
5. Free promotional reports
Use the materials your affiliate manager has provided.  It's been tested and developed for results.  That being said, be sure to create your own content too.  Even as an affiliate you are your own company and your website needs to reflect your personality and brand.  Building a community around your website and providing valuable content is a sure way to create a following that trusts you and your credibility – which will result in click throughs and affiliate sales.
Step Four – Pre-sell.  The good news is that your job as an affiliate is to pre-sell products and services.   Pre-selling means your content, whether it is a review, article, tutorial, course, or blog post, speaks honestly about the products and services you promote.  Pre-selling is about providing value to your website visitors and prospects, making them comfortable with you and your authority to generate interest and a click through to the company website, where the selling happens.
Step Five – Follow up.  Just like your affiliate manager follows up with you to see how you're doing and what you need, follow up with your prospects.  A great way to do this unobtrusively is to create a lead list by providing a newsletter visitors can subscribe, a free report, or any number of products in exchange for an email address and the permission to contact them with valuable information and special promotions.
Being a Super Affiliate is the only way to go if you want to build a successful affiliate marketing business.  Find products and services you trust and believe in and then create a strategy to share information to your target audience.  Test and track your efforts, focus on providing value to your prospects and leave the selling to the companies you represent.  Helping others live better lives, without having to provide the products or services personally, is a great way to make a living.